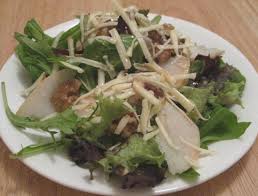 Make 4 Servings
Salad
1 head Red Romaine Lettuce
4 oz shredded asiago cheese
1 cup toasted pecans
¼ cup dried cranberries
2 Bartlett or Bosc Pears, pealed, cored and sliced
12 oz grilled chicken breast, thinnly sliced ( optional)
Vinaigrette Dressing
2 lemons, zest and juice
¼ cup sugar
1 tsp dijon mustard
2/3 cup olive oil
1 tbsp. fresh chopped thyme
1 tbsp. fresh chopped chives
½ tsp. salt
¼ tsp. pepper
wash and dry romaine lettuce, arrange on a platter
arrange chicken and pears over the lettuce.
sprinkle with cheese, pecans and cranberries
to make dressing combine lemon, sugar and dijon.
whisk in olive oil, stir in thyme and chives and season to taste.
drizzle dressing over salad and serve immediately.