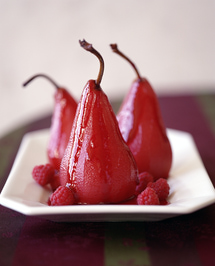 8 Bosc Pears – peal and scoop out the core from the bottom
1 bottle of good red drinking wine
1/2 cup dark brown sugar
1 or 2 cinnamon sticks
1 navel orange – zest and juice
1 star anise (optional)
in a medium size pot combine the wine, sugar, orange and spices.
bring to a rolling boil and simmer for about 5 minutes.
add pears and simmer for about 20 minutes or until the pears are fork tender.
remove pears from poaching liquid, increase heat and reduce liquid to a syrup like consistency.
serve pears warm or cold with vanilla ice cream drizzled with the poaching liquid.